Meetings and Events | News | Research Reports | Research in Progress |

Meetings and Events

Snow and Ice Leadership Seminar
The Chicago Metro Chapter of the American Public Works Association will host its 2016 Public Works Snow and Ice Leadership Seminar September 8 in Addison, Illinois. The seminar will include sessions on measuring winter weather, using data for maintenance, winter maintenance on tollways, liability, and other topics. The event is aimed at public works managers, plow operators, winter maintenance contractors, property managers, and facility maintenance staff. Details.
[divider]

Mid Canada Snow Conference
The Manitoba Chapter of the Canadian Public Works Association will host the 5th Mid Canada Snow Conference and Trade Show October 12-13 in Winnipeg. The conference will feature an exhibition of materials, equipment, and technology; sessions on salt application and handling, equipment maintenance and management, liability, training, and more topics; a snow plow roadeo, and networking opportunities. Details.
[divider]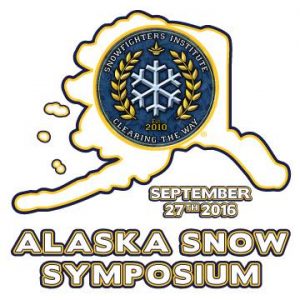 3rd Annual Alaska Snow Symposium
The Snowfighters Institute will host the 3rd Annual Alaska Snow Symposium in Anchorage September 27. The trade show will feature educational sessions on the trade show floor, as well as four speakers from the Snowfighters Institute and the snow and ice industry. Details.
[divider]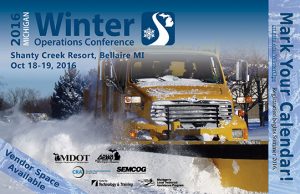 Michigan Winter Operations Conference
The Michigan Tech Center for Technology & Training will host the Michigan Winter Operations Conference October 18-19 in Bellaire. The conference will include more than 20 technical presentations, with a series for managers and supervisors and another for operators and mechanics. It will also feature a supplier showcase, with both indoor booths and outdoor equipment displays. Details.
[divider]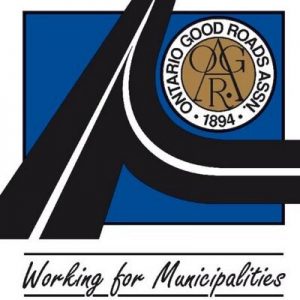 Managing Winter Operations Workshop
The Ontario Good Roads Association will hold a workshop on managing winter operations October 20 in Mississauga. The workshop will address what to expect at discovery meetings, the pros and cons of both digital and paper recordkeeping, an update on revisions to the Minimum Maintenance Standards, and more. Details.
[divider]

10th International Conference on Managing Fatigue
The 10th International Conference on Managing Fatigue will be held March 20-23, 2017, in San Diego, California. The conference focuses on the effects of fatigue in the transportation sector, including topics like measuring fatigue and fatigue risk, effects of fatigue on work accidents/incidents and commuting crashes, fatigue detection and management technologies, and the effect of operator workload on distraction and drowsiness. Details.
News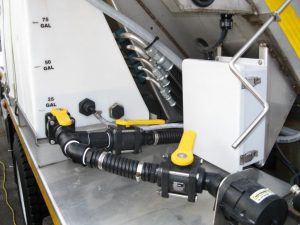 $60 Innovation Saves 30 Minutes Per Deicer Fill-Up
A $60 coupler and drain valve developed by an employee is reducing the amount of time it takes Idaho Transportation Department's northern Idaho Office to refill truck deicer tanks from 40 minutes to 5 minutes or less. The innovation will save thousands of dollars and improve safety and mobility as trucks get back on the road more quickly. The system may also be applicable for other maintenance activities involving liquids, such as herbicide or pesticide spraying. Article.
[divider]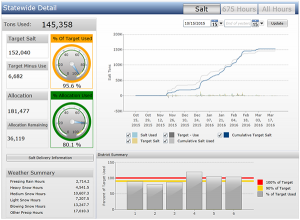 Iowa's Salt Dashboard Helps Garages Use Salt Efficiently
As highlighted in Aurora's eNews, Iowa DOT's Salt Dashboard is helping winter maintenance decision makers to efficiently use salt resources. The Dashboard is an automated, web-based tool that compares the amount of salt used by each garage to targets based on salt application rate guidelines, weather information, lane miles and level-of-service expectations. The Dashboard can also provide analysis on a district or statewide level. Since the dashboard was implemented in 2012, Iowa DOT has saved more than $2.7 million on salt annually, in part by using information from the Dashboard. Article.
[divider]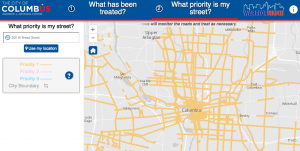 Can Tinted Salt Improve Driver Satisfaction?
A Public Works article highlighted efforts made by the Columbus (Ohio) Department of Public Service to continually improve its winter operations. One recent innovation is adding a bright blue but non-staining tint to road salt to help residents identify whether a street has been treated after a winter storm. The agency has also developed the Warrior Watch webpage, which shows residents which streets have been plowed or treated in the previous 72 hours, as well as the priority of each road for treatment. The website is updated every 15 minutes based on information collected by sensors on winter maintenance vehicles. Article.
[divider]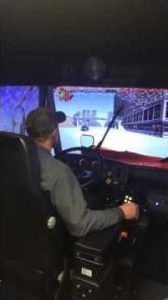 MnDOT Plow Simulator Improves Safety
A $700,000 plow simulator, deemed the first of its kind, is brought around Minnesota as part of MnDOT's training program to help plow drivers navigate a variety of scenarios. The simulator can replicate situations like blizzards, low-hanging power lines, or snow piles that conceal parked cars. Plow operators report that the simulator controls match the feel of trucks closely, and the simulator's screens in front of and to the sides of the driver with 3-D effects make it feel real. Article.
[divider]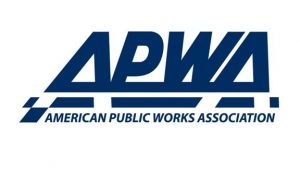 APWA Names Excellence in Snow and Ice Control Award Winners
The American Public Works Association presented its 2016 Excellence in Snow and Ice Control Awards at its North American Snow Conference in May. The winners were the City of Longmont, Colorado, Department of Public Works and Natural Resources; the Village of Buffalo Grove, Illinois, Public Works Department; and the Town of Orangetown, New York, Highway Department. The awards recognize excellence in management and administration of public works snow and ice operations and best practices in snow and ice removal while minimizing environmental impacts. Details.
[divider]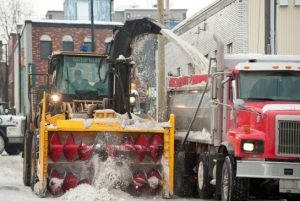 Ottawa Rejects Changes to Snow Plowing Standards
Ottawa's transportation committee rejected a recommended change to the city's plowing standards that would cause it to wait until 10 centimeters of snow have accumulated on residential streets before plowing. Ottawa currently has a seven-centimeter threshold for residential plowing, although most Canadian cities use the 10-centimeter standard. The proposal came from consultants KMPG, which Ottawa hired to review standards after four years of winter maintenance deficits. The switch was expected to save $1 million annually, but there were concerns about lack of consultation with the public and winter maintenance staff. Article.
Research Reports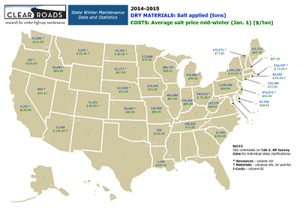 Annual Survey of State Winter Maintenance Data
Clear Roads project
Clear Roads has released the first set of data from a multi-year project to systematically gather, compile and analyze data from state DOTs related to winter maintenance operations. The data can be displayed in table form or on an interactive map where users can select the specific pieces of data they wish to compare by state. Clear Roads plans to conduct the survey annually and update the dataset as more information is collected. Report.
[divider]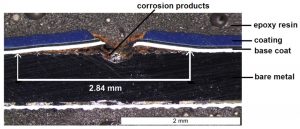 Evaluation of Cost Effective Protective Coatings for ODOT Snow & Ice Equipment
Ohio DOT Report 2016/11
Corrosion is a serious problem that results in more than $220 billion in losses nationwide every year. Winter maintenance equipment is particularly susceptible to corrosion as it is regularly exposed to corrosive deicing agents. Protective coatings may increase equipment lifetime and decrease maintenance costs, but there is limited data available about their effectiveness. This project conducted laboratory and field tests and a cost-benefit analysis to identify cost-effective coating systems. A draft standard based on the results recommends either Raptor or LCCOAT as a protective coating. Report.
[divider]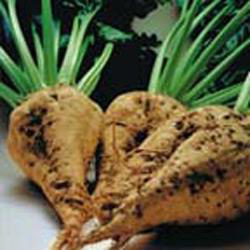 Bio-based Renewable Additives for Anti-icing Applications (Phase I)
Center for Environmentally Sustainable Transportation in Cold Climates report
This project evaluated the performance and impacts of several mixes of dandelion extract, sugar beet extract, sodium metasilicate and sodium formate as additives to salt brine used in anti-icing applications. These additives are intended to minimize the brine's impact on pavements, toxicity to aquatic life, and corrosivity to metals while improving ice-melting capacity. A water-based solution of 3% sugar beet extract, 0.67% sodium metasilicate, and 23% salt was selected as the best-performing anti-icer, but it had worse anticorrosion properties than other mixes tested. Report.
[divider]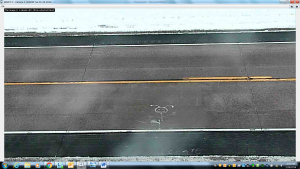 Ensuring Accuracy of Roadway Surface Condition Sensors
California Department of Transportation Preliminary Investigation
Road Weather Information Systems use a variety of sensors to measure environmental and roadway conditions. It is difficult to verify the accuracy of roadway sensors in the field, however, so this verification is rarely done. This project conducted a literature review and interviews with experts and practitioners to identify methods of verifying the accuracy of sensors embedded in the roadway. Several sources suggested a trend away from in-pavement sensors toward mobile or remote sensors, and the use of multiple data sources to confirm accuracy. Report.
Research in Progress


Identification and Recommendations for Correction of Equipment Factors Causing Fatigue in Snowplow Operators
Operator fatigue is a significant problem in winter maintenance, contributing to increased accident rates, lower productivity, and operator health issues. A recent Clear Roads study investigated the environmental factors that contribute to fatigue among snowplow operators. This related study will investigate equipment-related factors within the cab of winter maintenance vehicles that contribute to fatigue, with a focus on identifying and mitigating those factors. Abstract.
[divider]
Self-Deicing LED Signal for Railroad and Highway Intersections
This project, part of TRB's Innovations Deserving Exploratory Analysis (IDEA) program, will develop and demonstrate a new type of self-deicing LED signal for highway and railroad intersections as replacement for existing LED signal lights that are too cool to deice or melt snow and may cause accidents in snowy conditions. The work is being carried out in three stages: a laboratory investigation that will develop prototypes in red, green, and yellow; outdoor testing to ensure the prototypes meet performance requirements; and field testing on signalized intersections and rail track sections. Abstract.
[divider]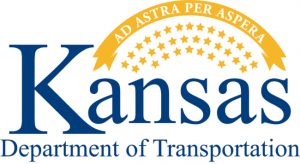 Self-Deicing LED Signals
This pooled fund study led by the Kansas Department of Transportation will develop and validate multiple prototypes of a new type of self-deicing LED signal. The prototypes will be based on the "Heated Lens Lighting Arrangement" concept tested and patented in 2014. Abstract.
[divider]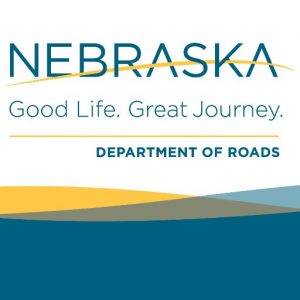 Phase I: Developing the NDOR Winter Severity Index to Improve Safety and Mobility
Like many states, Nebraska uses primarily qualitative measures to evaluate the success of its winter maintenance activities. Weather is inherently variable and uncontrollable, so an important first step in quantitatively evaluating winter maintenance is to create an index to compare the severity of individual storms. This project will analyze the winter severity indexing procedures in other states as a preliminary step in developing an index for Nebraska. Abstract.
[divider]
---
To be notified when new issues of this newsletter are posted and to receive the latest Clear Roads news and project updates, join our mailing list.
Save
Save
Save
Save
Save
Save