Meetings and Events | News | Research Reports | Research in Progress
Meetings and Events
2018 Snow and Ice Show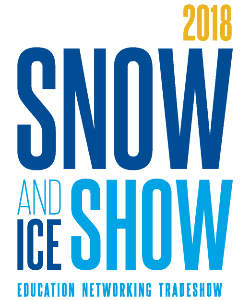 The Snow and Ice Show will be held May 1-3 at the Connecticut Convention Center in Hartford. The trade-show-style conference provides networking opportunities and educational programming focused on the modern principles of successful snow and ice management. Details.
[divider]

2018 APWA North American Snow Conference
The 2018 APWA North American Snow Conference will be held May 6-9 in Indianapolis. The annual conference features presentations from snow and ice professionals and an exhibit hall of winter maintenance solutions. Details.
[divider]
2018 Snowfighters Conference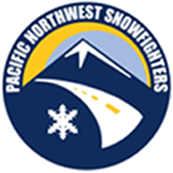 Pacific Northwest Snowfighters (PNS) will host its 2018 conference in Spokane, Washington, June 5-6. PNS has become nationally recognized as a leader in establishing and standardizing chemical products for snow and ice control. The conference will focus on training, education and new technology for the snowfighting professional. Details.
[divider]
Annual Eastern Snow Conference Meeting
The 2018 Annual Eastern Snow Conference Meeting will be held June 5-8 in College Park, Maryland. The annual conference features presentations from snow and ice professionals and an exhibit hall of winter maintenance solutions. Details.
[divider]
---
News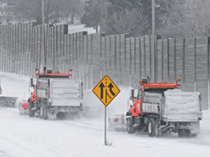 "Clear Conditions," Roads & Bridges, February 2018
Clear Roads' recent project to develop a snowplow operator and supervisor training program was featured in the February issue of Roads & Bridges. The project created a standard winter maintenance training curriculum addressing all aspects of a plow driver's experience. The 22 training modules are available to any agency at no cost. Article.
"What Gets Measured Gets Managed," APWA Reporter, March 2018
A dedicated office coordinator's initiative to log salt use and truck operating hours for plow drivers led to an informal salt management process. The openly shared data encouraged plow drivers to participate in a friendly competition, which resulted in more efficient salt use for a Michigan agency. Article.
---
Research Reports
Identification and Recommendations for Correction of Equipment Factors Causing Fatigue in Snowplow Operators
Clear Roads Report 15-02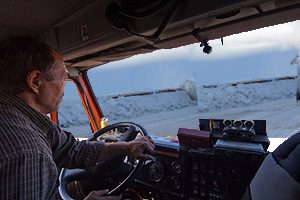 Researchers identified in-cab and external equipment factors that cause operator fatigue and made recommendations to reduce, eliminate or correct these factors. The project produced actionable and implementable improvements able to be applied to snowplow trucks. Project page.
[divider]
Quantifying the Impact that New Capital Projects Will Have on Roadway Snow and Ice Control Operations
Clear Roads Report 14-02
Researchers developed a software tool to estimate increased costs of roadway snow and ice control operations required for new roadway additions and configurations. These costs can then be considered during the planning process for new road projects. Project page.
[divider]
Winter Maintenance at the 2018 TRB Annual Meeting
Clear Roads has published our annual compendium of papers on winter maintenance that were presented at the 2018 Transportation Research Board Annual Meeting. The 2018 compendium includes abstracts for 19 papers grouped into six categories, covering a wide range of winter maintenance issues. Report.
[divider]
Evaluation of Disodium Succinate Hexahydrate as an Alternative Deicer
TRB Annual Meeting Paper 18-01002
Researchers in Japan evaluated disodium succinate hexahydrate (DSH) as an alternative to sodium chloride for use as a deicer. Laboratory and field test results for sodium chloride/DSH mixtures were promising, especially in limiting steel corrosion and environmental effects. Researchers recommended that DSH be used in liquid form as a prewetting agent or liquid deicer. Abstract and paper (requires TRB login).
[divider]
Cost–Benefit Analysis of Using the Tow Plow for Winter Maintenance
TRB Annual Meeting Paper 18-0109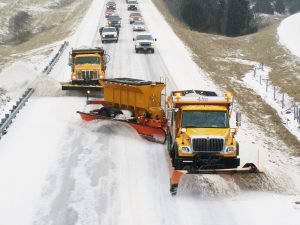 Researchers analyzed equipment fleet configurations to identify cost and time saving benefits from using tow plows. Adding tow plows to the fleet with less use of regular plows resulted in cost savings and helped clear roadways faster. Abstract and Paper (requires TRB login).
[divider]
Guidelines to Facilitate the Evaluation of Brines for Winter Roadway Maintenance Operations
Texas Department of Transportation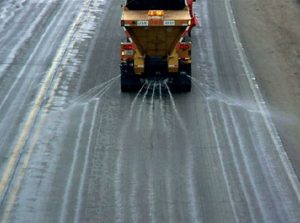 These guidelines are designed to facilitate the evaluation of brines for winter maintenance applications in Texas. Texas DOT maintenance professionals can use the guide to support decision making on the best brines to use based on availability, effectiveness, environmental impact, field performance and cost. Report.
[divider]
Evaluation and Analysis of Liquid Deicers for Winter Maintenance
Ohio Department of Transportation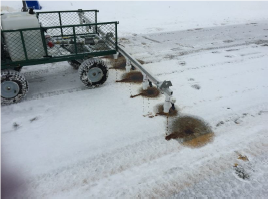 Eight different types of liquid deicers were evaluated on their performance in the field and laboratory. Researchers tested the effectiveness of the deicers under various temperature, environmental and roadway conditions. Optimal liquid deicer practices were recommended based on the evaluation results. Report.
[divider]
Field Usage of Alternative Deicers for Snow and Ice Control
Minnesota Department of Transportation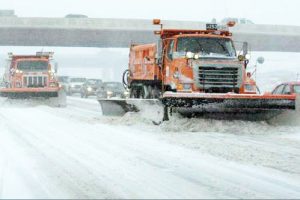 This report reviews the non-chloride-based deicers available on the market, including acetate-, formate-, glycol- and succinate-based deicing products. Researchers explored the feasibility of using non-chloride deicers as alternatives to chloride-based ones, and identified next steps to determine the viability of using non-chloride-based deicers in winter maintenance operations by MnDOT and local snow and ice removal providers. Report.
[divider]
Guidelines on Selection and Use of Snow and Ice Control Materials
Texas Department of Transportation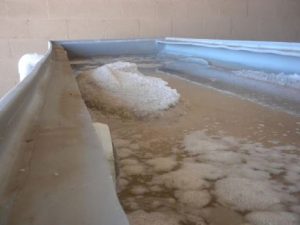 This document presents guidelines for the selection of snow and ice control materials for winter weather roadway maintenance applications in Texas. Texas DOT maintenance professionals can use the guide to help them address the challenges of winter roadway maintenance and provide safer and more reliable transportation solutions for Texas drivers. Report.
[divider]
Study of Deicing Salt Accumulation and Transport Through a Watershed
Minnesota Department of Transportation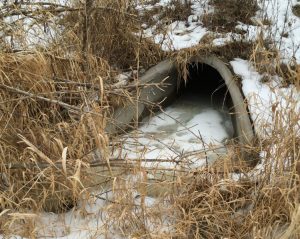 Researchers studied chloride transport through surface water runoff and soil infiltration in a Minnesota metro area watershed. Chloride levels were monitored over three years, with results characterizing how weather influences chloride transport and accumulation processes as well as the residence time of chloride in watersheds. Researchers used the results to develop chloride pollution mitigation strategies. Report.
[divider]
Anti-Icing of Road Surfaces Using Hydronic Heating Pavement with Low Temperature, Cold Regions Science and Technology, January 2018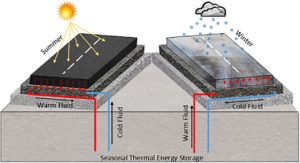 Researchers in Sweden investigated the anti-icing performance and effectiveness of a Hydronic Heating Pavement method which uses pipes embedded in the road to mitigate slippery road conditions. Results showed improved performance when the pipes are placed closer together, the depth of embedded pipes is reduced, large pipe sizes are used and when the road surface has a lower emissivity value. Paper.
[divider]
Dynamic Heat Load Calculation of a Bridge Anti-Icing System, Applied Thermal Engineering, January 2018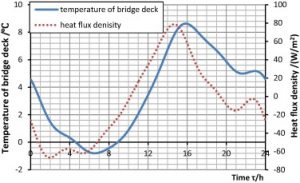 Before using a thermal anti-icing system to treat icy bridge decks, the surface temperature must be accurately measured. Researchers in China developed an inverse heat conduction method to determine the dynamic heat load of a bridge heating system. The calculations were then validated using control algorithms. Paper.
[divider]
---
Research in Progress
Standard Specifications for Plow Blades with Carbide Inserts
Clear Roads Project 17-04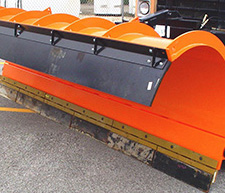 The goal of this project is to develop a set of standard specifications that can be used by agencies across the country to specify carbide-insert plow blades. Having widely accepted specifications could increase buying power for state DOTs and potentially provide cost savings. Project page.
[divider]
Relationships Between Weather and Roadway Safety
Iowa Department of Transportation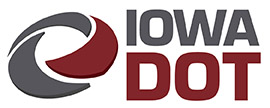 Using weather, traffic and crash data from different sources, researchers will analyze the relationship between road weather conditions and the frequency of crash occurrences. They aim to develop crash frequency and severity models to aid agencies in identifying high-risk areas, provide predictive road weather information, design effective safety countermeasures and support decision making for road maintenance priorities. Abstract.
[divider]
Assessing the Impact of the ODOT Winter Salt Pilot Project on Neighboring Streams and Groundwater
Oregon Department of Transportation  


This project aims to better understand how chloride from deicers enters Oregon groundwater systems. In addition, researchers plan to develop a deicer application management tool to help predict chloride levels in local stream water. Abstract.
[divider]
---
To be notified when new issues of this newsletter are posted and to receive the latest Clear Roads news and project updates, join our mailing list.