Meetings and Events | News | Research Reports | Research in Progress
Meetings and Events

2018 International Winter Road Congress Call for Papers
The World Road Association is seeking submissions of papers for its 15th International Winter Road Congress, taking place in Gdansk, Poland, February 20-23, 2018. The Congress will have a theme of "Providing Safe and Sustainable Winter Road Service," and it is seeking papers specifically on extreme situations and disasters, climate change and the environment, road weather information, road users and safety, winter maintenance management and planning, equipment and products, winter service in urban areas, and tunnels and bridges. Abstracts must be submitted by December 31, 2016. Details.
---
News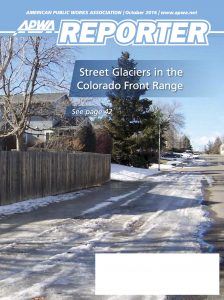 APWA Reporter Features Clear Roads Salt Management Research
The October 2016 issue of the APWA Reporter includes "Twenty Ways to Save on Salt," an overview of Clear Roads' recent Roadway Salt Best Management Practices project. The article describes the Manual of Best Management Practices for Road Salt in Winter Maintenance created from that research, and how state and local agencies can use it to identify and implement practices that will allow them to reduce their spending on road salt while still meeting their winter maintenance performance goals. The October issue has a winter maintenance theme and also includes articles on green winter maintenance operations, succession planning, how technology can improve winter driving safety, winter weather forecasting, and the top ten issues in winter maintenance. Article.
[divider]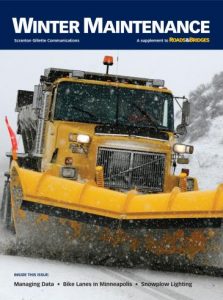 Roads & Bridges Winter Maintenance Supplement Features Clear Roads Research
In September, Roads & Bridges published a supplement focused on winter maintenance. Five feature articles discuss Clear Roads' new Survey of State Winter Maintenance Data, findings from Clear Roads' Use of Equipment Lighting During Snowplow Operations project, how Minneapolis is plowing bike lanes, winter maintenance on gravel and loose-top surfaces, and electronic spreader control systems. The issue also features a portfolio of winter maintenance products. Issue.
[divider]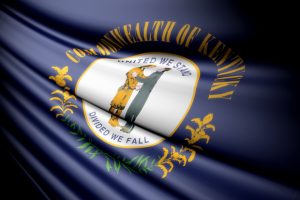 Kentucky Wins Computerworld Award for Use of Data
The Kentucky Transportation Cabinet was one of 20 organizations winning 2016 Computerworld Data+ Editors' Choice Awards, which recognize innovative uses of data analytics. KTC was recognized for its efforts to respond to extreme weather events by integrating geospatial technology from Esri, crowdsourced data, and real-time information with its existing Intelligent Transportation System. The ITS analyzes data from sources such as snowplow sensors, Twitter, Waze and the National Weather Service to provide real-time information that can be applied in decision-making. Article.
[divider]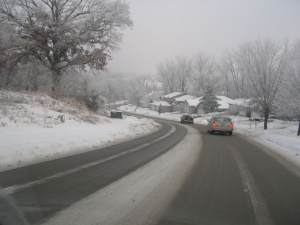 Pacific Northwest Snowfighters Posts Conference Presentations
Presentations from the 2016 Pacific Northwest Snowfighters Conference, held June 7-8 in Portland, Oregon, are now available on the PNS website. More than 20 presentations cover topics such as connected vehicles, deicer toxicity, weather forecasting, training and TowPlow implementation. The presentations also include researcher Wilf Nixon's keynote, "Winter Operations: Technology Today, Tomorrow, and in 5 Years." Presentations (select "2016 PNS Conference Presentations").
[divider]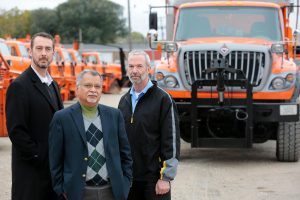 Iowa State University Study Suggests Faster Plow Replacement Saves Money
In a study of plow maintenance costs, researchers at the Iowa State University College of Business found that Iowa DOT could save $2 million to $5 million per year by replacing its plows faster. IDOT currently replaces trucks after 15 years, but the study found that six or seven years would optimize replacement and maintenance costs. The researchers based their assessment on 10 years of IDOT maintenance records. They acknowledged that new classes of equipment can increase costs, however, and recommended continual analysis. Article.
[divider]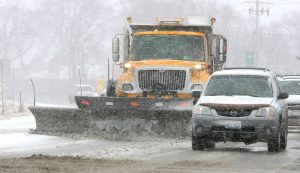 Illinois DOT Seeks Local Winter Maintenance Collaboration
Illinois DOT is asking local agencies for help maintaining certain state roads this winter as it awaits delivery of new plows and trucks. Due to state budgetary issues, the DOT was prohibited from purchasing new equipment for two years, depleting its fleet. While new purchases were authorized this summer, it may take up to a year for the equipment to be delivered. The DOT is asking local agencies to perform snow removal activities on "secondary state routes on a limited and reimbursable basis," an IDOT spokeswoman said. Article.
[divider]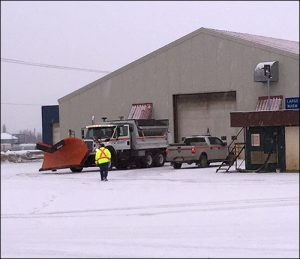 Connected Plows Help Fairbanks Fight Snow
Climate change is impacting Alaska's winter weather, making freezing rain more common and making maintaining roads more difficult. The Fairbanks district of the Alaska Department of Transportation and Public Facilities uses a Road Weather Information System and Maintenance Decision Support System to help track conditions and select treatments. The RWIS stations, however, provide information for only a small number of the city's roadways. To augment this information, the district is using on-vehicle sensors from WeatherCloud, which can collect data while traveling and transmit it to the MDSS. The district will evaluate the system's impact on highway safety using crash data over three years. Article.
[divider]
Ohio DOT Plans to Expand Brine Usage
Ohio DOT hopes to reduce winter maintenance costs and improve performance by using more salt brine this year. The DOT has invested in liquids in the past few years, and one garage increased its liquid usage from 50,000 gallons in the 2014-15 winter to 800,000 gallons last year. An ODOT representative said the use of liquids reduces salt costs by 30 to 40 percent.  Article.
---
Research Reports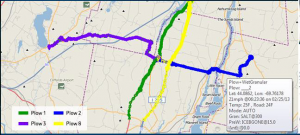 Synthesis on GPS/AVL Equipment Used in Winter Maintenance
Clear Roads Report 14-01
Many states are interested in implementing GPS/AVL systems to collect information that will help them manage their winter maintenance programs more effectively. GPS/AVL is a relatively new, fast-developing technology, and the many options for hardware and for communicating the data collected to a data management system can make implementing a system complicated. This Clear Roads project developed a guide to the currently available GPS/AVL options and their capabilities, including the positive and negative experiences agencies have had with the technologies they have used. Researchers also identified issues that agencies should consider when implementing GPS/AVL equipment. Report.
[divider]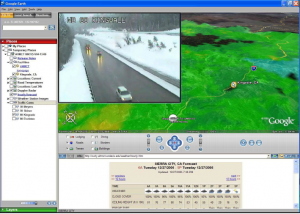 Mobile Real-Time Information System for Snow Fighter Supervisors
California Department of Transportation Report CA16-2299
Snow removal operations require extensive communications between snowfighters and supervisors to ensure that supervisors have adequate information for effective decision-making. This communication often takes place in challenging environments with poor cellular coverage. This project investigated cost-effective, reliable options for communications between Caltrans snowplows and supervisor vehicles, with a goal of developing a system using primarily off-the-shelf components. The researchers developed a system that constantly monitors for cellular signal availability and transmits stored data as soon as a sufficiently strong signal is available. Report.
[divider]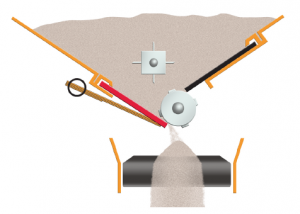 Improved Deicing Methods for Snow and Ice Removal: Evaluation of the Epoke Sander/Spreader for Caltrans Operations
California Department of Transportation Report CA16-2335
Caltrans' salt and sand spreaders use dated technology due for replacement. This study evaluated the Epoke Sirius Combi 4900 spreader as a potential replacement for Caltrans' fleet. The Epoke spreader was found to have the capability for combined liquid and solid pre-wet spreading, improved metering and material placement, and electronic data acquisition, which should modernize Caltrans' winter maintenance fleet and improve its snowfighting efforts. Report.
[divider]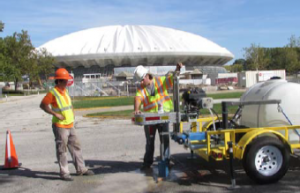 Evaluation of Software Simulation of Road Weather Information System
Illinois Center for Transportation Project R27-142
The Enhanced Integrated Climatic Model (EICM) is a computerized heat and moisture flow model that simulates changes in pavement and subgrade properties. EICM, a key module in AASHTO's Pavement ME Design software, can "virtualize" data that would be gathered by conventional road weather information systems (RWIS). This study evaluated whether EICM could successfully supplement or replace RWIS hardware by determining pavement surface temperature for winter maintenance operations. Analysis showed that EICM can be used to predict pavement surface temperature reasonably well, if pavement materials are used at the correct thickness and recommended default values are used for material types. Report.
[divider]

Snowplow Operator Driving Time: Survey of State and Local Practices
Utah DOT Report UT-16.06
In February 2015, Utah DOT issued interim guidance regarding continuous working hours for its snowplow operators. This project investigated best practices for snowplow operator driving time to inform development of a formal policy that will replace this interim guidance. A literature search and surveys of state DOTs and UDOT region staff collected information about current snowplow operator driving time practices across the country. Recommendations include establishing 12-hour shifts with different limits in emergency conditions, specifying a minimum rest period between shifts that accommodates commute times, and considering reducing the level of service during extended storm events. Report.
[divider]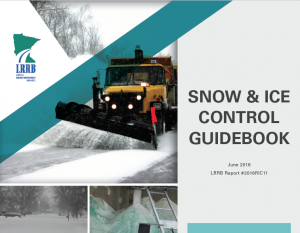 Snow & Ice Control Guidebook
Minnesota Local Road Research Board Report 2016RIC11
This project developed an easy-to-use reference guide to snow and ice control aimed at new or part-time winter maintenance staff. The guide describes snow and ice control strategies, snowplows and equipment, and winter maintenance materials, technologies, policies and best practices. The guide uses many photos throughout to clearly and quickly illustrate a wide range of topics, such as snowplow types, pavement condition definitions, or anti-icing material application that may not be familiar to people without a winter maintenance background. Report.
[divider]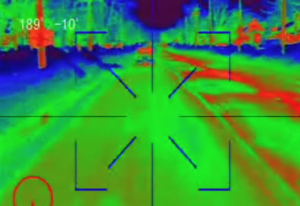 Long-Term & Short-Term Measures of Roadway Snow and Ice Control Performance
University of Vermont Transportation Research Center Report 16-002
Managers need to have access to meaningful maintenance performance measures that accurately capture roadway conditions in order to effectively and efficiently respond to winter storms. The primary performance measures currently used are operating speed recovery time and time to achieve bare pavement, but there is a continued need for objective, outcome-based performance measures. This project developed and pilot-tested new performance measures, including a long-term, seasonal "time-to-normal" measure using readily available speed data; a short-term measure using real-time images collected by winter maintenance vehicles; and the Average Distribution Deviation that measures changes in the distribution of vehicle speeds. Report.
[divider]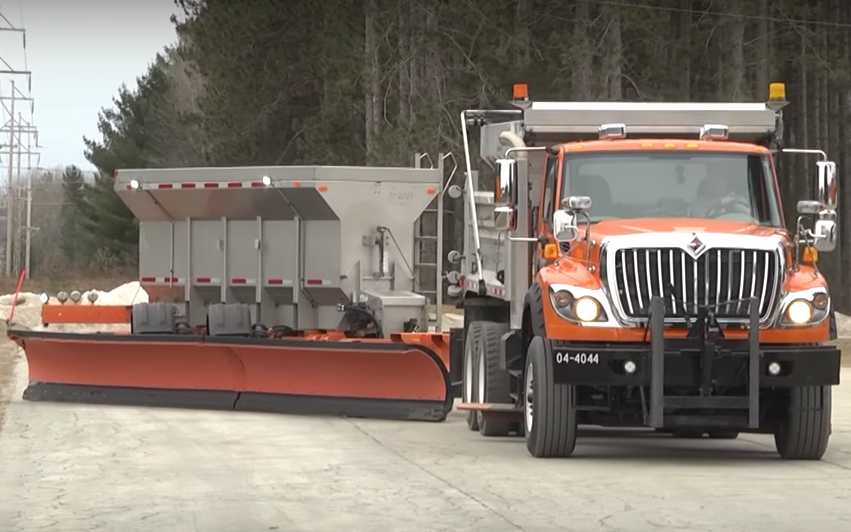 Evaluating the Use of Tow Plows in Michigan
Michigan DOT Research Project SPR-1623
Michigan DOT conducted field testing of the Tow Plow on several different types of snow routes during winter storms of varying levels of severity. The goal of the project was to evaluate the costs and benefits of Tow Plow usage to determine where they can be used in a safe and economical manner. Data collected indicate there is no difference in pavement friction behind different types of plows or in their operating speeds, and the Tow Plow reduced overall travel delay during winter storms. The report recommended MDOT purchase three additional Tow Plows, increasing its fleet size to 17, and use them on six- and four-lane expressways during most winter storms. The project also developed a Tow Plow training video. Report.
---
Research in Progress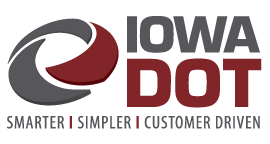 Using Operational Data to Access Mobility and Crash Experience During Winter Conditions
Historically, the effectiveness of winter weather maintenance practices on safety and mobility has been difficult to quantify in a systematic way. Recent expansion of fixed and mobile sensors and improved data collection and archive practices can make performance assessment more feasible. This Iowa DOT project will identify and investigate potential applications of this expanded data availability in Iowa, with an emphasis on maintenance performance measurement and assessment. Abstract.
[divider]

Evaluation of Simulation Models for Road Weather Information System
Pavement surface temperature is an important indicator for deciding the optimal time to apply anti-icing agents and for estimating how much deicer is required to melt snow and ice. This University Transportation Research Center project will evaluate the applicability of simulation models for Road Weather Information Systems. Abstract.
[divider]
---
To be notified when new issues of this newsletter are posted and to receive the latest Clear Roads news and project updates, join our mailing list.
Save
Save
Save
Save
Save
Save
Save
Save
Save
Save
Save
Save
Save
Save
Save
Save
Save