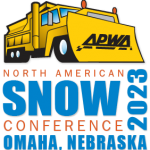 Have a successful winter maintenance practice that could help others? Share your knowledge at the 2023 North American Snow Conference. Organizers are looking for public works professionals to lead the conference's education sessions to help their colleagues more effectively manage winter operations.
The 2023 conference will feature presentations on the following aspects of winter operations: information management, innovative solutions, leadership and workforce solutions, materials application, fleet and equipment management, and planning and operations. Presentations should emphasize practical applications and leading-edge technologies and approaches.
The deadline to submit presentation proposals is August 19, 2022, and the conference will be held April 16-19, 2023, in Omaha, Nebraska. The annual conference is hosted by the American Public Works Association.
For more information, visit the conference's Call for Presentations page.