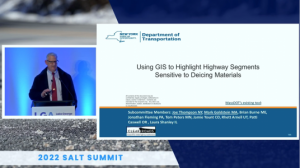 On October 13, 2022, members of the Lake George Association in upstate New York hosted their annual Salt Summit to discuss strategies and technologies for reducing road salt. Clear Roads member Joe Thompson of New York State DOT spoke at the event, sharing highlights of the in-progress Clear Roads research project investigating ways agencies can improve their winter maintenance operations to recognize environmentally sensitive road segments.
Learn more about Clear Roads project 20-05: Using GIS to Highlight Highway Segments Sensitive to Deicing Materials.
Watch a video of Joe's presentation on Youtube.