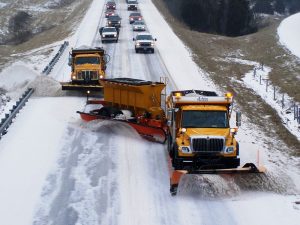 The Clear Roads Technical Advisory Committee met April 16-18 in Indianapolis to select research projects for 2019 funding. The following projects were selected:
Expanding Brine Recipes and Their Use
Synthesis: Retention and Recruitment of Highway Maintenance Workers
Comparison of Performance of Prewet Road Salt Distributed by Traditional Chain Conveyor Spreader vs. Auger-Driven Slurry Spreader
Measuring the Efficiencies of Tow/Wing Plows
Specifications for Automated Snowplow Route Optimization
More information about these projects is available in the 2019 All Proposed Projects summary. Requests for investigator proposals will be posted this summer.