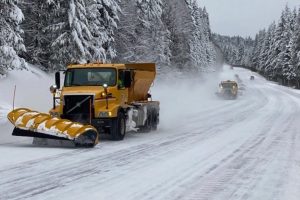 Each spring, the Clear Roads Technical Advisory Committee meets to review research proposals and select new projects for funding. This year, the committee selected five projects:
Comprehensive Guide to Pre-wetting Application Rates and Methods
Best Management Practices for Liquid Chloride Storage and Pumping Systems
Effects of Additives in Lowering the Freezing Point of Deicing Salts
Evaluation of Direct Liquid Application of Salt Brine vs. Granular Salt as Measured Through Various Performance and Safety Metrics
Use of Dashboards for Winter Operations
More information about these projects is available in the 2022 All Proposed Projects summary. Requests for investigator proposals for the new projects will be posted this summer.
The agenda, budget and minutes from the spring meeting are available on the Clear Roads Meetings page.
Image source: Oregon DOT