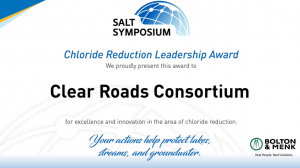 The Salt Symposium is an annual event that brings industry leaders together to share and discuss new developments and research initiatives that aim to reduce the environmental impacts of chlorides.
At this year's Salt Symposium on August 1-2, Clear Roads received one of six 2023 Chloride Reduction Leadership Awards in recognition of its efforts to research and identify and implement practical solutions that save agencies money, improve safety, and increase efficiency.
"I wholeheartedly accept this award on behalf of the 39 state transportation departments and the FHWA, who are actively supporting and participating in this pooled fund effort," said Tom Peters of Minnesota DOT, Clear Roads' lead state.
Learn more about the Salt Symposium and the other award winners at www.bolton-menk.com/salt-symposium.