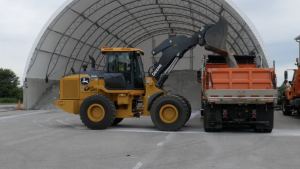 A step-by-step guide to spreader calibration is the latest addition to Iowa DOT's popular Winter Operations Training video series. The 10-minute calibration video includes demonstrations on both granular and liquid equipment.
Updated in 2020, Iowa DOT's training videos have long been a valuable resource for winter maintenance programs in Iowa and beyond. The series includes 14 short videos on topics such as plowing techniques, equipment checks and using weather resources.
Watch the videos: Iowa DOT Winter Operations Training Series, updated October 2020.
For more on this topic, see Clear Roads' Training Resources and Spreaders Research pages.
Image source: Iowa DOT