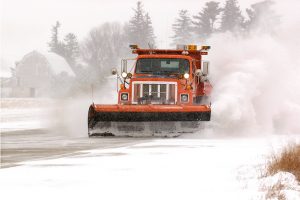 Drivers on a stretch of Interstate 35 in southern Minnesota received advance warning this winter when snowplows were working nearby. In an effort to reduce crashes, Minnesota DOT pilot-tested technology that uses highway message signs to let motorists know when slow-moving plows are ahead on the highway.
Ten snowplows were outfitted with the technology, which activates the message signs as the plows pass. The signs display a warning message, such as "Snowplow ahead: Use caution," that stays activated for several minutes. The pilot project is part of MnDOT's connected and automated vehicle research.
Read the press release: "MnDOT tests I-35 snowplow activation of warning signs to boost safety," January 2021.
Photo by David Gonzalez, Minnesota DOT