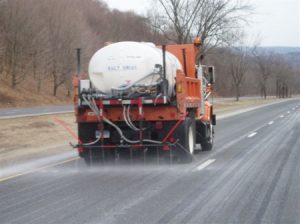 Liquid deicers such as salt brine and brine blends can effectively clear snow and ice while using less salt than traditional granular applications. To fully utilize this strategy, though, agencies need detailed guidance and application rates for multiple liquids across a variety of weather and pavement conditions.
Drawing from field test results and practitioner recommendations, a recent Clear Roads project developed comprehensive application guidelines for liquid deicers that address a range of pavement temperatures, temperature trends, road surface conditions and materials—including guidance for using liquids at lower temperatures.
Download the application guidelines, final report and two-page brief: Expanding Application Rate Guidance for Salt Brine Blends for Direct Liquid Application and Anti-icing, December 2021.