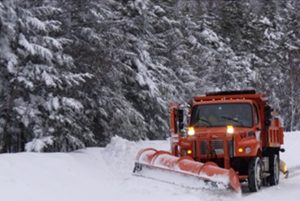 New Hampshire DOT's study of LED snowplow lights and Iowa DOT's investigation of self-heating electrically conductive concrete recently captured national attention as two of AASHTO's High Value Research winners for 2022. The award recognizes the nation's top high-value research projects as chosen by state DOT research directors in each of the four AASHTO regions.
In New Hampshire, an in-house project quantified the benefits of LED plow headlights compared with traditional halogen bulbs. The study found that the LED headlights improved operator visibility and reduced eye fatigue, and a cost-benefit analysis showed that the lights' lower maintenance requirements led to significant cost savings compared with halogen bulbs.
In Iowa, a three-year demonstration project evaluated the performance of an electrically heated concrete system that incorporates conductive carbon fibers within the concrete mix. The concrete, which can melt snow and ice without the use of deicers, could one day be a sustainable option for icy trouble spots that are not easily cleared during winter storms.
The two projects were honored last month at the annual AASHTO Research Advisory Committee meeting. For more on these award-winning projects:
Congratulations to all the High Value Research winners!
Image source: New Hampshire DOT