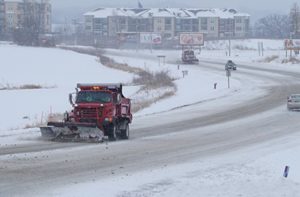 AASHTO's Snow and Ice Pooled Fund Cooperative Program (SICOP) is now the Winter Weather Management Technical Service Program.
While this new name better reflects the group's expanded focus on road weather management and maintenance operations, the popular Talkin' Winter Ops podcast it produces will remain the same.
Check out the newest episode:
It's About the Speed (Episode 89): What actually happens when you apply salt to a road during a winter event? This episode investigates the chemistry of salt and which snow and ice activities and salt solutions can make the biggest impacts.  August 8, 2023. Podcast.
Image source: Wisconsin Department of Transportation