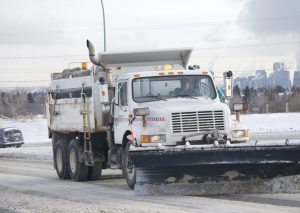 AASHTO's SICOP Talks Winter Ops podcast recently posted several new episodes. The latest looks at how agencies manage extreme weather events:
Winter Operations Is More than Salt and Snowplows (Episode 56): Wilf Nixon of the Professional Snowfighters Association discusses operating a roadway network in the face of a severe winter event. Topics include traffic incident management, traveler information, preemptively holding traffic, and disaster exercises. January 2022. Podcast.
Two recent podcast episodes preview the PIARC 16th World Winter Service and Road Resilience Congress, which will be held virtually next week (February 7 to 11):
16th World Winter Service Congress Is Coming to Calgary in 2022 (Episode 52): An event preview from conference Project Manager Nadia Lappa. October 2021. Podcast.
Calgary 2022: What's in It for Me? The Technical Program (Episode 55): Members of the organizing committee discuss the conference's technical program. January 2022. Podcast.
Finally, two episodes spotlight winter maintenance in the conference's host city of Calgary, Alberta, Canada:
Winter Maintenance in the Chinook City—Calgary (Episode 53): Chris Hewitt, the city's Manager of Roads Maintenance, discusses the city's approach to winter operations in a large urban environment with unique winter weather conditions. December 2021. Podcast.
Calgary—Adapting to Winter Service Challenges (Episode 54): A conversation with Troy McLeod, the city's Director of Roads, about how the city has adapted to challenges including changing weather patterns, changes in mobility needs, and new travel patterns brought on by the pandemic. December 2021. Podcast.
Image source: City of Calgary, Alberta