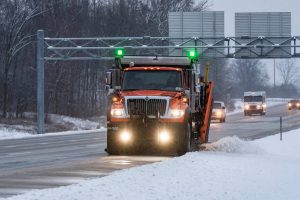 Check out these recent episodes from AASHTO's SICOP Talks Winter Ops podcast:
Designing in Salt Reduction (Episode 72): What role does design play in reducing salt usage? In this episode, experts in engineering and design discuss how road geometry, vegetation and other winter-sensitive considerations can maximize solar radiation and minimize drifting snow, reducing the need for chemicals. May 30, 2023. Podcast.
Alternative Fuels for Winter Maintenance – Part 2 (Episode 71): In the second installment of this discussion on fuel alternatives for maintenance fleets, Justin Droste from Michigan DOT talks about Clear Roads synthesis project, 21-05: Evaluation of EVT and Alternative Fuels for Winter Operations and the range of factors that should be considered as transportation agencies explore vehicles with smaller carbon footprints. April 25, 2023. Podcast.
Image source: Michigan Department of Transportation