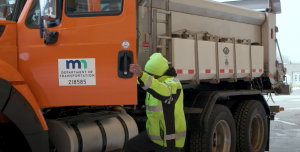 Check out these two new episodes from AASHTO's SICOP Talks Winter Ops podcast:
Public Affairs, a Key Ingredient for Successful Winter Operations (Episode 47): A conversation with Anne Meyer of Minnesota DOT about the role public affairs professionals play in getting the winter operations message out to the driving public. May 2021. Podcast.
Ways to Improve Winter Resilience of Roads (Episode 46): Mark Corbin of the UK's Transport for West Midlands discusses what he learned during extensive research on winter resilience in several countries. April 2021. Podcast.
Image source: "MnDOT Minute" video, Minnesota DOT