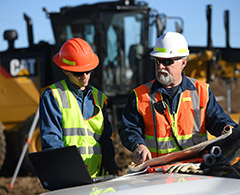 For maintenance professionals who are looking to expand their qualifications, this summer may be a good time to explore the online associate's degree program in Highway Maintenance Management offered by Front Range Community College in Colorado.
Unique in the nation, the online program is designed for current highway maintenance professionals who are interested in advancing to a management role. Students can enroll full-time or part-time, and can cut the time and cost of their degree by receiving credits for skills, training and experience accumulated over the course of their career. FRCC awarded its first degree in the program this spring.
Learn more: Program website and podcast (May 2020 episode of AASHTO's "SICOP Talks Winter Ops" podcast).
Image courtesy of Front Range Community College