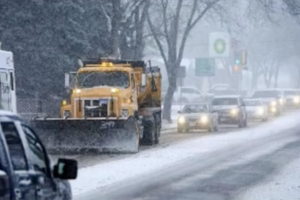 South Dakota DOT's implementation plan for its Maintenance Decision Support System (MDSS) and Iowa DOT's study of corn-based deicers recently captured national attention as two of AASHTO's Sweet Sixteen high-value research projects for 2021. The award recognizes the nation's top high-value research projects as chosen by state DOT research directors in each of the four AASHTO regions.
In South Dakota, statewide deployment of the MDSS is already yielding operational and safety benefits, with researchers estimating a six-year benefit-cost ratio of 3.25 (including projected reductions in crashes and fatalities).
In Iowa, innovative research identified three promising blends of corn-based deicers that merit further evaluation as environmentally friendly materials that could reduce the use of salt.
The two projects were honored last week at the annual AASHTO Research Advisory Committee meeting, where Michigan DOT also received a Supplemental Award in the Safety category for its study of green strobe lights for improving conspicuity of winter maintenance vehicles. For more on these award-winning projects:
Congratulations to all of the winners!
Image source: South Dakota DOT